Ori and the Will of the Wisps Patch Now Available [5.14]

May 14, 2020: Ori and the Will of the Wisps Patch Now Available
Dear Ori Fans,
We'd like to thank all of you for the heartwarming words of support, constructive feedback, and patience as we improve the game and address the issues some of you have encountered.
Our team has been very hard at work and we are extremely excited to deliver our latest patch for Ori and the Will of the Wisps, full of new features, improvements and fixes to all of you
Patch Release Notes
New Features
HDR Support for PC (Windows 10 and a HDR compatible display required)

Improved HDR visuals on Xbox consoles (with new powerful HDR settings!)

Dynamic Resolution Scaling (enables the game to automatically lower its rendering resolution to achieve higher framerate when necessary)

FPS Limit (for those that prefer locked frame-rate experience with less frame-rate fluctuation at high refresh-rate)

Audio Output Device Selection (to specify the device used for sound output)

Speaker Type Selection (better configure audio panning and other features for headphones or speakers)

Sound API Selection (multiple sound api's available to help with potential sound hardware compatibility problems)

Turning Microsoft Spatial Audio On/Off (allows more control over the spatial audio for more immersive experience and audio troubleshooting for those having no audio output)

Added Steam Trading Cards, Badges, Backgrounds and Emojis
Gameplay Improvements
Fine-tuned the Windtorn Ruins Escape Difficulty on Normal and Hard Mode

Fixed the 'missing Kwolok' issue

Fixed 'Fallen Friend' quest

Fixed issues with some NPCs disappearing from side quest locations

Fixed issues in Silent Woods connected to Ori's moveset getting limited

Several Quality of Life improvements have been added to the Spirit Smash, Burrow and Grapple mechanics
 Improvements and fixes to various enemy behaviors
Improvements and fixes to the completion counter: Area completion is affected only by the collectibles and optional challenges present in the area and global completion is affected by area completion, completing all quests, owning every Spirit Shard, and learning all skills from Opher. No longer does simply uncovering parts of the map while exploring impact the completion % of the area, in the interest of not being stuck hunting down the last few nooks and crannies left that have no real significance to the experience

Map fixes: Issues related to displaying icons on the map, fixing map alignment with the world, added ability tree icons to the map, added "complete" state to spirit trial icons

Numerous adjustments and additions to improve understanding of unlocking, engaging with and completing Spirit Trials

Small enemy distribution adjustments to Luma Pools and Mouldwood Depths post boss battles
Technical Improvements
Further improved Performance and Stability on both PC and Xbox One family consoles

Fixed the 'crashing on start' issues

Fixed the outstanding problems with achievements not being granted

Fixed various potential sources of compatibility issues rooted in audio hardware and drivers

Improvements to reduce pixel aliasing and improve image quality in a variety of scenes

Issues concerning the Spirit Trials Leaderboards were fixed
Additional Fixes
Fixed bugs with certain resolutions not displaying properly

Fixed invincibility after obtaining Seir

Fixed 'Flash ability effect lingering' issues

Fixed issues concerning skipping cutscenes

Fixed issues concerning players sometimes not receiving quest rewards

Improvements to localization

Fixed issues related to Backup Saves

Fixed button prompt issues

Fixed soft locks in The Wellspring

Fixed a number of asset pops and loading issues

Fixed a number of motion blur issues

Improvements to the Warp Mechanic

Map: Added quest list to the "All" filter

Fixed vitality shard having no effect while swap shard is equipped

Fixed Spirit Smash and Spike descriptors

Swapped default equipment assignment in Ku gameplay section to clarify the available moveset

Minor adjustment to Wellspring Spirit Trial to prevent players from skipping a majority of the trial in an unintended way

Added collapsing walls on the left and right of Mora's first arena to prevent players from staying on the walls indefinitely once the escape portion has begun

After completing the 'Hand to Hand' quest, the purchasable map icon upgrades in Lupo's shop are considered purchased to prevent players from wasting Spirit Light unintentionally

Fixed issue where small respawnable collectible orbs in water or sand would become unable to be collected on respawn

Fixed undiscovered Spirit Well being activated on purchase of Windswept Wastes area map

Out of bounds fix for Shriek boss battle
As always, thank you for your continued support. One of our goals has been to make sure Ori and the Will of the Wisps brings joy to as many people around the world as it possibly can, and we hope that we've brought joy to you.
---
April 6, 2020: Ori and the Will of the Wisps Patch Now Available
We are pleased to announce our next patch for Ori and the Will of the Wisps is now available to download across all Xbox and Windows devices! If you do not have updates automatically downloaded, please check your device and update your game to the latest version. Check out the Patch Notes below!
Patch Notes – Improved performance – Improved map loading times – Improvements to scene and asset loading – Map remembers the last zoom position now when reopened – Fixed the buzzing issue for the vast majority of players – Fixed bugs with obtaining certain achievements – Fixed missing characters in Asian languages – Fixed problems with some controller buttons not working for some players – Fixed crashing / freezing on start issue – Fixed several issues where player gets trapped behind closed door after respawning – Fixed several instances of screen going black at certain moments – Fixed problems with picking up some of the collectibles – Many more minor fixes
– Introduced an option to hide HUD, along with a dynamic HUD mode – Added exclusive fullscreen option – Introduced resolution scaling option – Introduced motion blur scaling option – Introduced controller vibration scaling option – Fast travel from map is now a separate upgrade purchasable from Opher
Achievements fixes details: Healthy and Powerful achievements should be granted automatically when loading a save that meets all the criteria. Destiny, Hardcore Fan, Shardless, Lightless, Look at the Time and Immortal will be granted when the player loads the save slot they finished the game on and watches the epilogue again, as long as they meet the required criteria.
Thank you again for continued patience with us this past month as we've worked out the kinks and further optimized Ori and the Will of the Wisps with this new patch. We know it has been frustrating for some but hope everyone enjoys all the fixes included in the latest update. We look forward to polishing the game even more and will keep you updated. Have a fun time exploring Niwen!
---
Community Bug Report Update 3.27
Happy Friday! Our team is putting the final touches on the upcoming patch release and we would once again like to thank you for your patience and understanding during this time. Let's dive deeper into what you can expect:
Added Features:
New Dynamic HUD mode as well as option to hide HUD

Exclusive Fullscreen Option Added

Resolution Scaling Option Added
Changes:
Fast travel from map will now be sold as a separate upgrade from Opher
Key Fixes:
Achievements: Healthy and Powerful achievements should be granted automatically when loading a save that meets all the criteria.

Note: Destiny, Hardcore Fan, Shardless, Lightless, Look at the Time and Immortal will be granted when loading the save with a completed game while meeting the criteria for these achievements. However, if you skipped the epilogue cutscene, you may need to beat the final boss again.

Improved overall performance, including map loading times, scenes, and asset loading

Audio buzzing/stuttering removed or reduced

Localization and missing characters/fonts with Asian languages fixed

Note: There are still some issues with the Quick Access leaderboards for all languages which will be addressed in the next patch.

Controller button functionality fixed

Crashing/Freezing on start menu fixed

Handful of softlocks and one-off crashes fixed, such as getting trapped behind a door

Several instances of your screen going black at certain moments throughout the game fixed

PC Keyboard fixes: Incorrect button prompts, keybinding polish, toggling between keyboard and controllers, and more

Numerous polish fixes throughout the world and UI including textures, vignettes, animations, audio, enemy one-offs, Motay stats, game menus, UI prompts, and more

Picking up collectibles fixed
We will be sure to let you know on all social media channels as soon as the new patch drops. Your feedback has been incredible, and we believe the upcoming build will solve a large number of issues you have shared with us.
Thank you again, and more updates next week!
---
Community Bug Report Update 3.20
We are working around the clock to bring you a patch in the coming days that fixes performance issues and a large number of reported bugs across all platforms. Our goal is to provide a quality patch that addresses many needs at once and is thus taking us a few extra days to perfect. Once the patch drops several performance issues you may have experienced will decrease significantly and the game will be enjoyed more fully by many more users. In the meantime, some of the most common reports are below.
Common Reports and Workarounds
"I can't burrow or water-dash!" Please make sure you have acquired the Dash ability in Kwolok's Hollow, or burrow and water-dash will not work.
"The sound buzzes/stutters a lot!" A few workarounds while we fix this issue is to install your game on an SSD and disable antivirus real-time scanning for the game. This fixes a lot of issues for some but not guaranteed. A fix is coming for this one.
"I can't remap some of my buttons!" This is a known issue and will be fixed in the upcoming patch.
"I beat the game and didn't get some of the end-game achievements!" Also a known issue and will be fixed in the upcoming patch.
"I can't get rid of this quest/rumor even though I did it already!" This is a known issue and will be fixed in the upcoming patch.
"I'm stuck behind a door!" We are aware of a small number of instances where you are stuck from progressing in the game. While we work on these issues, please read below on how to load a backup save.
Thank you for your continued patience!
---
Community Bug Report Update 3.13
Thank you to everyone who has provided feedback so far while playing Will of the Wisps. It has been invaluable to us! 
We would like to share an update on the status of known issues and bug reports. Here is a list of Top Known Issues and their status:
Xbox One Upcoming Fixes
Improving performance on both Xbox One X and Xbox One S across the entire game as well as during busy combat scenarios
Removing the stutters on Xbox One S and Xbox One X after longer periods of play time
Addressing various gameplay, localization and technical bugs
Additional improvements are also planned for the Xbox One version in a future update, including plans to improve the HDR support for Xbox One
PC Upcoming Fixes
Sound glitches/buzzing

Weapon Wheel (both RT/LT bringing up abilities)

Chinese font rendering issue

End-game Achievements Unlock Error

Leaderboard Missing Information

Key Remapping Error

More options for performance tweaking on the PC:

Resolution scaling %

Allowing to super-sample or under-sample the game

Exclusive full screen mode and other small tweakable graphic options

Plans to improve the HDR experience with HDR support for PC is coming soon
More Known Issues We are Investigating
Crash during title screen:

Investigating

 

Save game files missing:

Investigating

No In-game sound:

Investigating
If you are having audio buzzing issues, in some cases, adding the game to your antivirus exclusion list will work as a temporary fix. The next patch will be coming next week, so stay tuned! 
We also understand there are a number of softlocks, i.e., when Ori gets stuck somewhere and you cannot progress through the game, and while we work on their fixes, the best workaround would be to use a backup save.
How to Access Your Backup Saves
Return to the Main Title Screen

Select 'Start Game'

Select the game slot you wish to access

Select 'Backup Saves'

Select the save you would like to start from.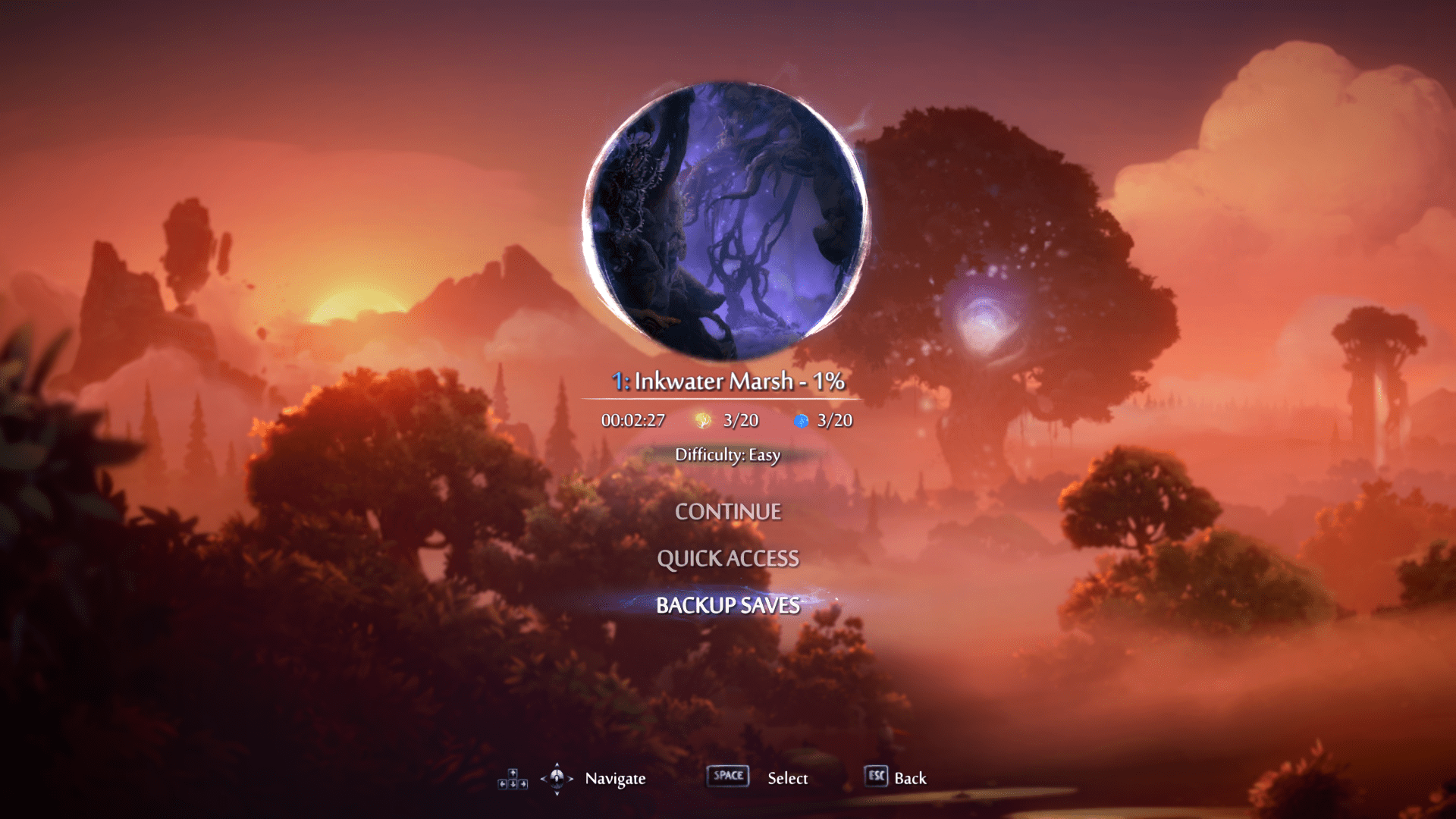 There have also been several questions regarding Life Cell Fragments. In order to increase your maximum health, you will need to collect two Life Cell Fragments to complete a Life Cell. Once you have both parts of a Life Cell Fragment, your maximum health will increase by one. We hope this helps!
Reporting A Bug or Gameplay Help
If you would like to report a Steam bug that isn't on the above list click here to add your bug to the thread. We will reach out for more information if needed.
Alternatively, for help from fellow community members, check out our Official Ori Discord! There is a technical help section for Steam, Win10, and Xbox. Our community is active and available to help take a look and see if your bug can be solved on its own, has been reported, or is brand new.
If you just need help with getting past a hard puzzle or need someone to cheer you on, our Discord is also the right place to go! There is a Will of the Wisps-specific channel and someone is always around to lend a hand.
As always, please check your device to make sure your game is playing the latest build. We have received some confusion with Windows 10 updates, so here is a quick How-to:
How to Update Ori and the Will of the Wisps in Windows 10
1. Go to the Microsoft Store on your PC.
2. Click on the menu with the three dots on the upper right-hand side and select 'Downloads and updates'.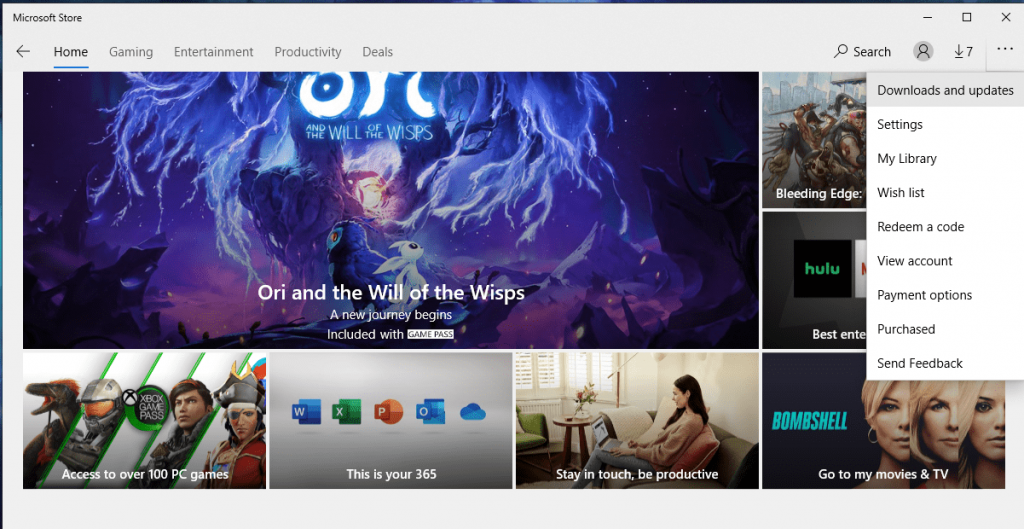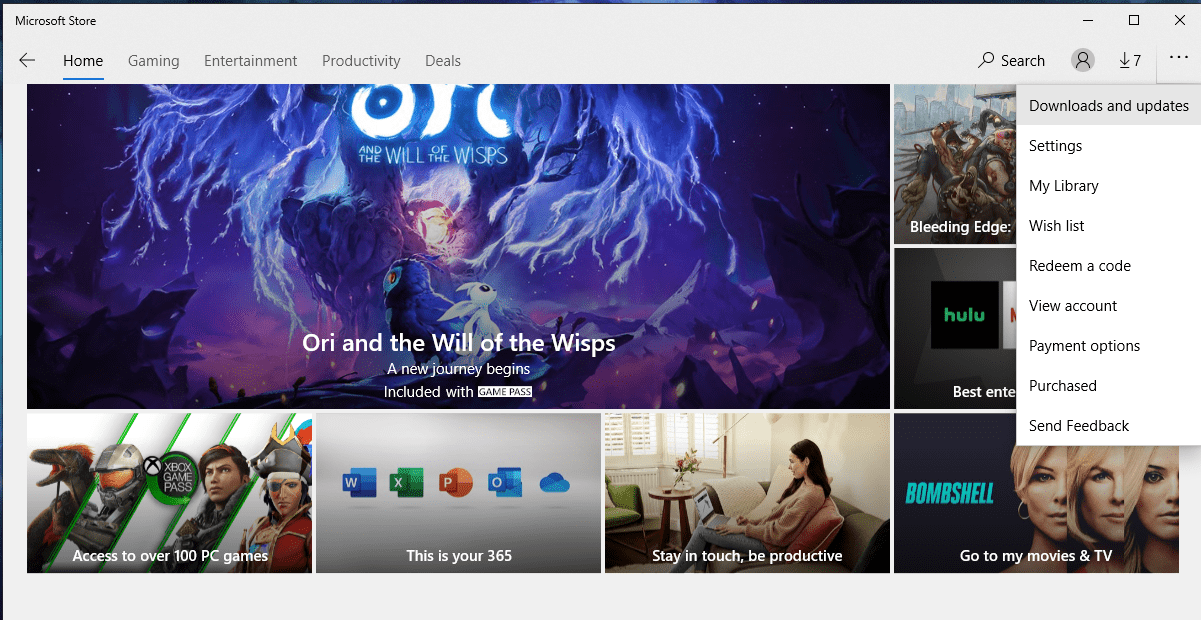 3. Under 'Available Updates', look for Ori and the Will of the Wisps.
4.Once on the game page, select the menu with the three dots and click 'Update'.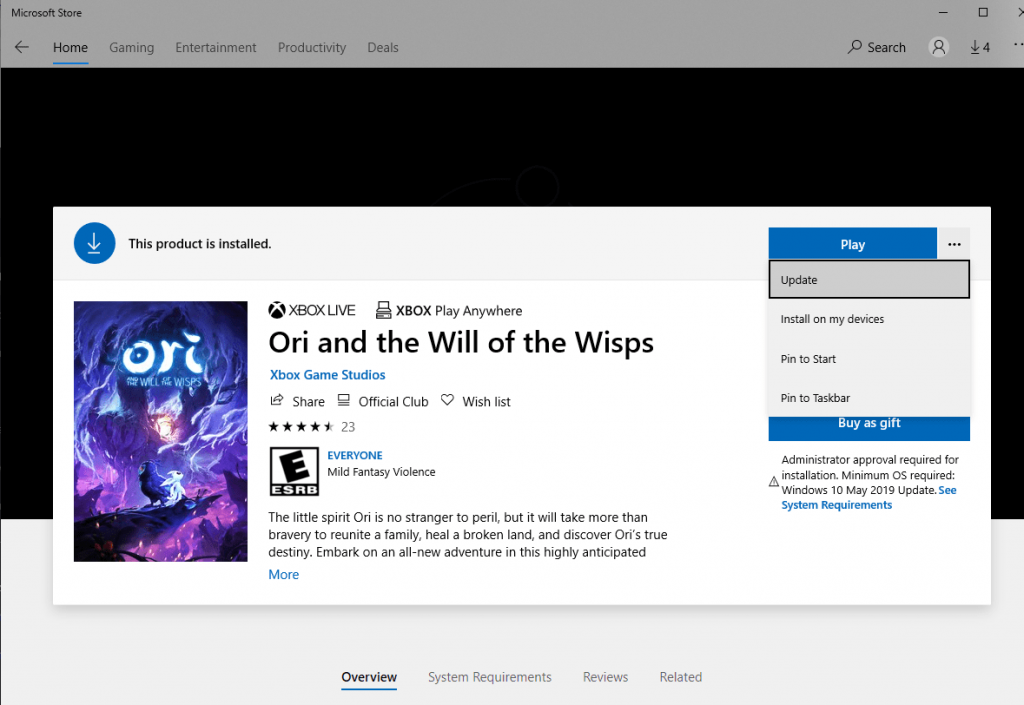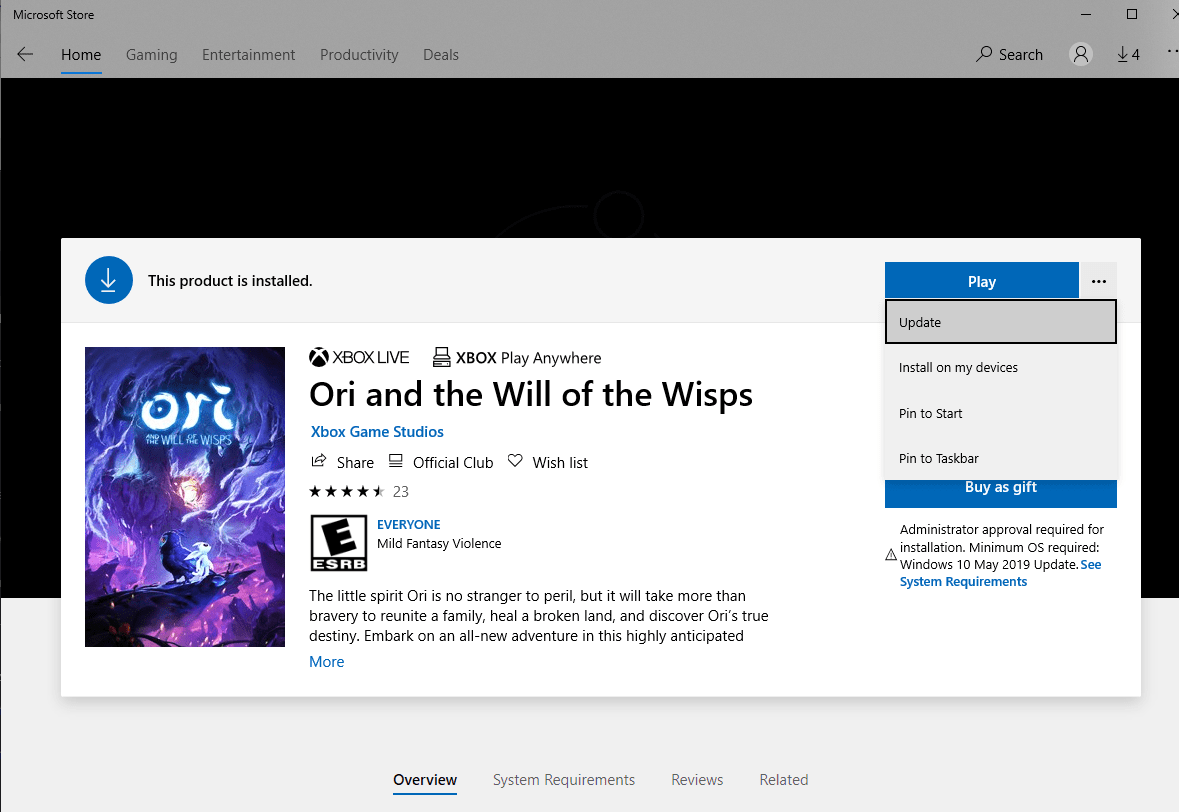 This will ensure you have the latest version of the game.
Thanks for your patience! We are working very hard to fix all your issues and will keep you updated in the coming days.